For the original article, please click here to visit the Monterey County Weekly.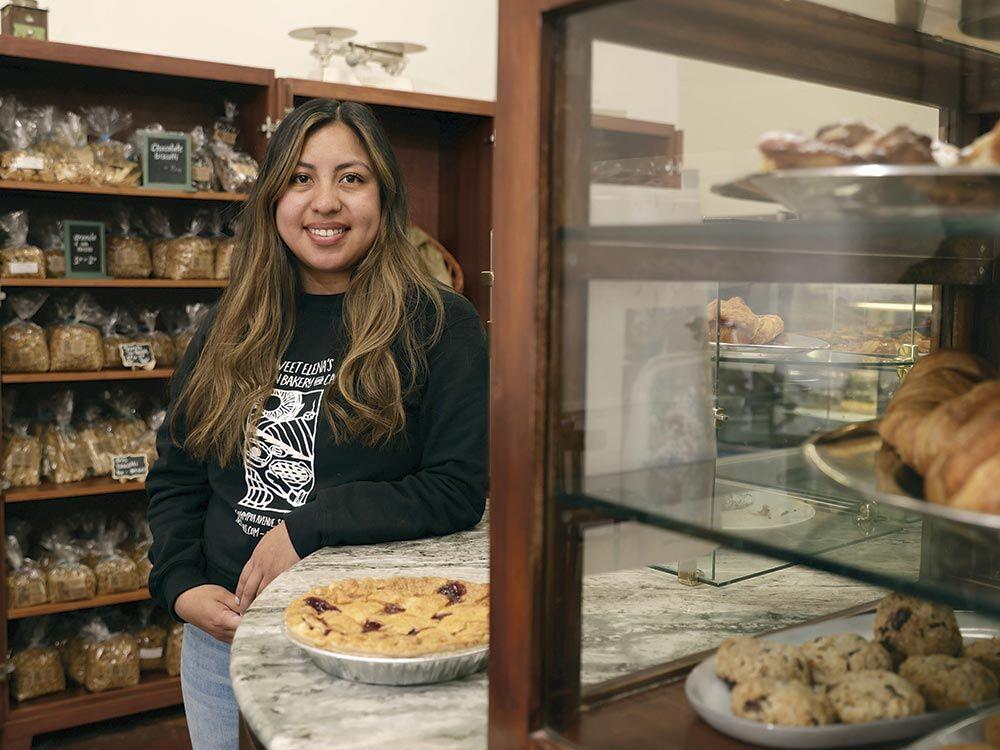 Katy Matias grew up in Sweet Elena's Bakery. Once a wide-eyed observer, then an employee, now she's the business owner after Elena Salsedo Steele retired in 2022. Photo: DANIEL DREIFUSS
Sweet Elena's new owner doesn't want changes.
Monterey County Weekly, May 18, 2023
Agata Popęda 
Can you imagine entering a bakery in Monterey or Pacific Grove and not seeing an almond croissant? It may be the bestseller in local bakeries' pastry section.
"People come from all over – from San Francisco, L.A., Sacramento – just for the almond croissant itself," says Katy Matias. "They always email us: 'Please, can I buy the recipe off of you' or 'Can you please ship these to me.' There are people who buy them unbaked. We sell hundreds a week."
Elena Salsedo Steele is far too sweet to admit it, but Matias, the new owner at Sweet Elena's Bakery and Cafe in Sand City, knows – and dares to say it on the record. Not only are Sweet Elena's almond croissants the best almond croissants in Monterey County, but it was also Salsedo Steele who pretty much single-handedly turned the almond croissant into a favorite.
Don't get me wrong: There were almond croissants in Monterey County before Salsedo Steele. But the founder of Sweet Elena's brought French technique. "Now, it's a staple piece in every bakery. You cannot not have an almond croissant in your bakery anymore," Matias says.
Salsedo Steele's creme – the filling – is unique, even in relation to the Old World pastry. The creme is not French, but Italian, as Salsedo Steele confesses. Marrying delicate filling with a light and capricious dough is not easy. Both almond paste and marzipan are heavy; things can easily get too gooey.
All that said, Matias herself is a chocolate person. She grew up in the bakery, practicing violin in the bakery storage room with a little inspiration from fresh chocolate cookies.
"Once you try an almond croissant you are hooked, but I have a love for chocolate," says Matias, who planned to be a lawyer, and then tried accounting, before embracing her sweet fate. "So we made an almond chocolate croissant. That's my go-to – best of both worlds. I will look for any excuse to have one."
Before becoming an employee at Sweet Elena's at the age of 16, Matias was "this little girl in the bakery," to whom frequent customers would always say, "This will be your bakery one day." She accepted it as a good joke, but was always curious about the bakery's inner processes and eager to help. Her mom, Dolores Cruz, worked alongside Salsedo Steele over the years, and is now Matias' "right hand." After Salsedo Steele retired last year, Matias' mother became the person most familiar with the product – which gave Matias two mentors.
"Elena is like a mother to me," Matias says. "She has been training me for this even before I committed." They traveled to Europe together to taste croissants. They would live together for days as Matias learned Elena's ways – as well as the routine of baking, visiting farmers markets and gaining experience in front-of-the-store presence, marketing and bookkeeping.
"Now, when I go somewhere, I know what's fresh and what's not fresh," she says. "And I know what was made from scratch and what wasn't."
For Matias, the biggest challenge is to maintain Salsedo Steele's high standards and continue the transition to the best local organic ingredients. "I didn't want to change any recipes, I didn't want to take any items away," she says. "But I'm a perfectionist."
Matias applies the same perfectionism to all bakery products. Not an almond croissant fan? How about turkey, bacon and avocado on a fresh baguette? "We will put out 20 in the morning and they will be gone in three hours," Matias says about the item's "skyrocketing" popularity. Sweet Elena's is also showcasing its pureed soups, bacon-and-egg croissants, olallieberry pie and ham-and-cheese quiche.
"One thing that is changing are the customers," Matias says about the cafe. "We used to have mostly older customers, but now I see people in high school who come for coffee and pastry."
Sounds wonderful. But patrons of many bakeries know things are not always so sweet, especially when pastries linger in the display case.
"If the croissants don't look good, I don't put them out," Matias says. "This is what [Salsedo Steele] taught me. If it's not good enough for you, it's not good enough for your customer."

Agata Popęda
Monterey County Weekly